Newsonline reports that the National Social Investment Management System (NASIMS), the central management platform for the administration and coordination of Social Investment Programmes under the Federal Ministry of Humanitarian Affairs, Disaster Management and Social Development, has finally opened a Facebook thread where Npower questions are addressed by the management.
This online news platform understands that Nasims made this known in a post on its official Facebook page.
The statement titled: "WE ADDRESS YOUR QUESTIONS IN OUR POSTS" reads as thus; "Do not be dismayed as we may not attend to your complaints/questions individually as relayed in our comment section, but kindly note, that we acknowledge all, while we escalate your complaints to the appropriate department to be addressed.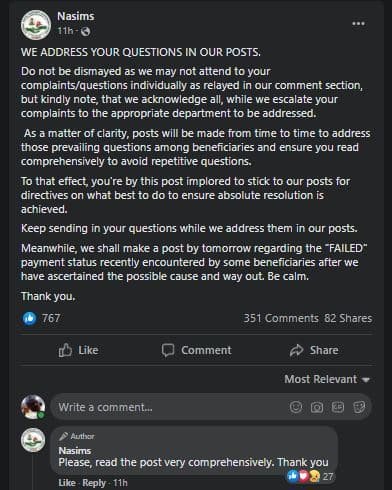 "As a matter of clarity, posts will be made from time to time to address those prevailing questions among beneficiaries and ensure you read comprehensively to avoid repetitive questions.
"To that effect, you're by this post implored to stick to our posts for directives on what best to do to ensure absolute resolution is achieved.
"Keep sending in your questions while we address them in our posts.
"Meanwhile, we shall make a post by tomorrow regarding the "FAILED" payment status recently encountered by some beneficiaries after we have ascertained the possible cause and way out. Be calm.
"Please, read the post very comprehensively. Thank you."