A former Minister of Aviation, Femi Fabi Kayode, has called on security agencies to arrest the National Chairman of the All Progressives Congress (APC), Abdullahi Adamu for alleged bribery to the tune of N1 billion.
Newsonline reports that the APC chieftain questioned security agencies, including the Economic and Financial Crimes Commission (EFCC) on why Adamu hasn't been arrested following revelations from a sitting governor.
Femi Kayode who stated this on Sunday, October 2, said after the revelation by Rivers state governor, Nyesom Wike, about the misappropriation and diversion of One billion naira.
"Why have the security agencies not rounded up the APC National Chairman and all the other members of their NWC and questioned them about the misappropriation and diversion of the one billion naira that Wike told us about? Are the leaders of the opposition above the law?"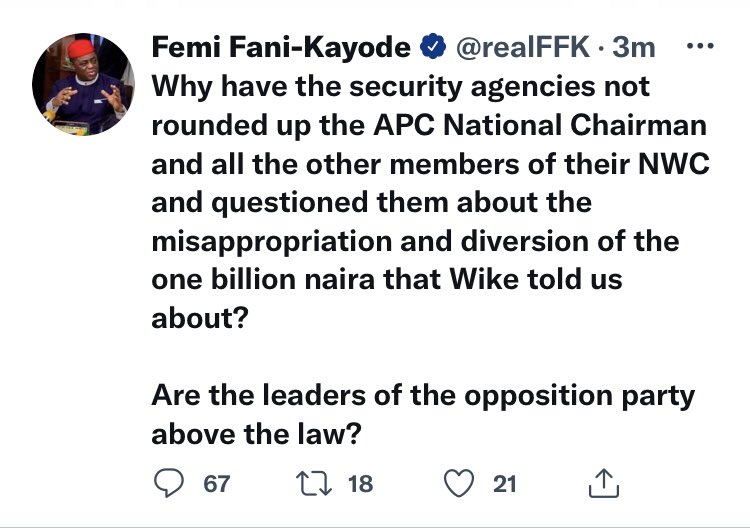 The former minister, however, deleted his tweet calling for the arrest of Adamu, either as a mistake, but many netizens said his first tweet showed the thorough intent of the crisis ravaging the ruling APC.
Realizing his mistake, Kayode wrote, "Why have the security agencies not rounded up the PDP National Chairman and all the other members of their NWC and questioned them about the misappropriation and diversion of the one billion naira that Wike told us about? Are the leaders of the opposition above the law?"
He further added, "Never have we seen party officials sharing money amongst one another like Father Christmas as the leadership of the PDP has just done. I advise those on their NWC that have not done so already to return the money they collected because a criminal investigation has already begun."