Russia War: NATO To Send Advanced Lethal Weapons To Ukraine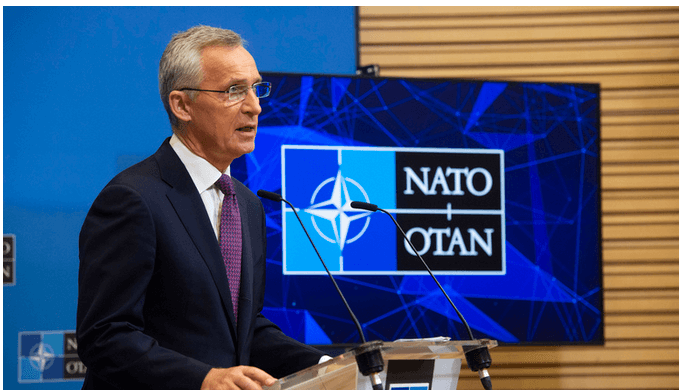 Northern Atlantic Treaty Organization, NATO, has agreed to send advanced lethal weapons to Ukraine to assist the country in defending itself against Russian invasion.
Newsonline reports that on Wednesday, NATO agreed to provide advanced lethal weapons to Ukraine following a meeting of NATO Defence Ministers in Brussels.
NATO Secretary-General Jens Stoltenberg said, "We are extremely focused on stepping up, providing more support, more advanced weapons … because we support them in their just fight against the brutal Russian invasion."
NATO Jens Stoltenberg said: "Allies are committed to continuing providing the military equipment that Ukraine needs to prevail, including heavy weapons and long-range systems."
Mr. Stoltenberg said he expected "the Allies will agree on a comprehensive assistance package for Ukraine at the Madrid Summit. It would help Ukraine in the longer term, the transition from Soviet-era to modern NATO equipment, and improve interoperability with NATO."
Stoltenberg stated that in response to Russia's invasion of Ukraine, the number of NATO battlegroups has doubled to eight, and more than 40,000 troops are now under direct NATO command.
"We will now take decisions on the scale and design of our posture for the longer term. To ensure that we can defend every inch of Allied territory. From the first moment, at all times, and against any threat. This will mean big increases in our presence, capabilities, and readiness."
He said that "would mean more NATO forward-deployed combat formations to strengthen the battlegroups in the East, more air, sea, and cyber defenses, pre-positioned equipment, and weapon stockpiles."
Newsonline reports that Russian Federation invaded Ukraine in the early hours of  February 24, 2022.
The invasion has led to five months of war between the invading Russian army and Ukraine's defending army.
The Russian invasion has brought many economic and political sanctions to Russia which is affecting the country's economy.