Nnamdi Kanu has been reportedly removed as IPOB Leader.
Newsonline reports that the detained leader of Indigenous People of Biafra (IPOB), Nnamdi Kanu, has reportedly been removed as the Director of the organisation, and replaced with Sofia Chinyere Kalu, the IPOB United Kingdom (UK) National Financial Secretary.
This online newspaper understands that Ezeji Chukwuma, a separatist who manages IPOB and Radio Biafra Community Interest Companies (CIC) Registry in London, UK, said that Kalu is the new Director of IPOB worldwide.
This claim, Newsonline Nigeria reports, was re-echoed by Simon Ekpa, a self-styled disciple of Nnamdi Kanu.

Investigations by this newspaper revealed that Kalu's father is an Igbo man from Nigeria, while her mother is South African. She is married to an Igbo man.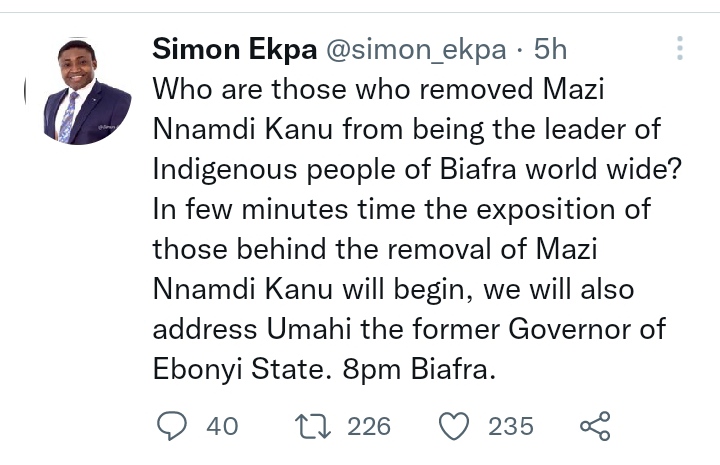 "Who are those who removed Mazi Nnamdi Kanu from being the leader of Indigenous people of Biafra world wide?" Ekpa quizzed on his known Twitter handle on Wednesday night.
In a subsequent broadcast, monitored by this Newsonline, Ekpa claimed that "they want to use a woman who knows nothing about the Biafran struggle to destroy Mazi Nnamdi Kanu".

According to him, on paper, Kanu, who has been in the custody of the Department of State Services (DSS) since June 2021, has been removed as the leader of IPOB. He cited a March 5 Memo to IPOB UK members by its Directorate of States (DoS), headed by Chika Edoziem.